Wild Witchy Womxn's Yoga Retreat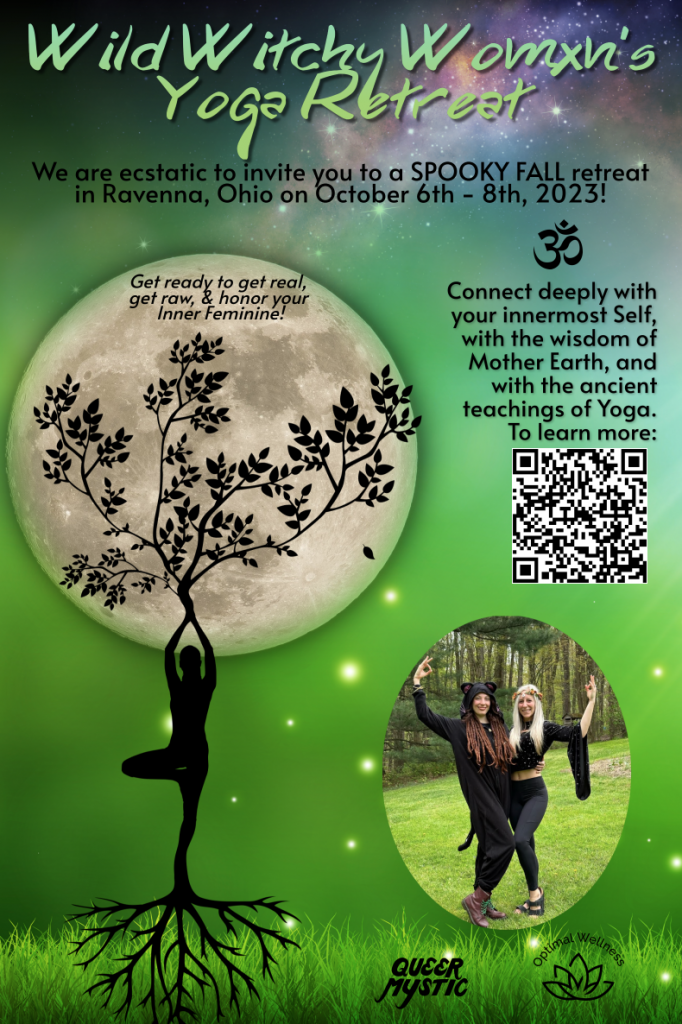 Powerful being,
We are ecstatic to invite you to a SPOOKY FALL retreat in Ravenna, Ohio on October 6th – 8th, 2023!
Connect deeply with your innermost Self, with the wisdom of Mother Earth, and with the ancient teachings of Yoga.
🌀 We will gather to share a daily yoga & meditation practice, health & wellness practices, sacred fire ceremony, sisterhood connection, and so much more. 🌀
Get ready to get real, get raw, and honor your Inner Feminine!
Hosted by:
Paisley Parvati Devi // RYT-500, Multimedia Artist, & founder of Queer Mystic
Allison Yanci // ERYT-200, NASM Certified Personal Trainer, & founder of Optimal Wellness
Your investment includes:
– Detailed instruction on many topics including: Yoga, meditation, workshops, grounding techniques, sauna & ice baths, and more!
– Breakfast on Saturday & Sunday, dinner on Saturday, snacks & cacao throughout
– Lodging on a beautiful, spacious property with sauna
To see the schedule, learn more, and sign-up, click the buttons below and let us know what questions you have.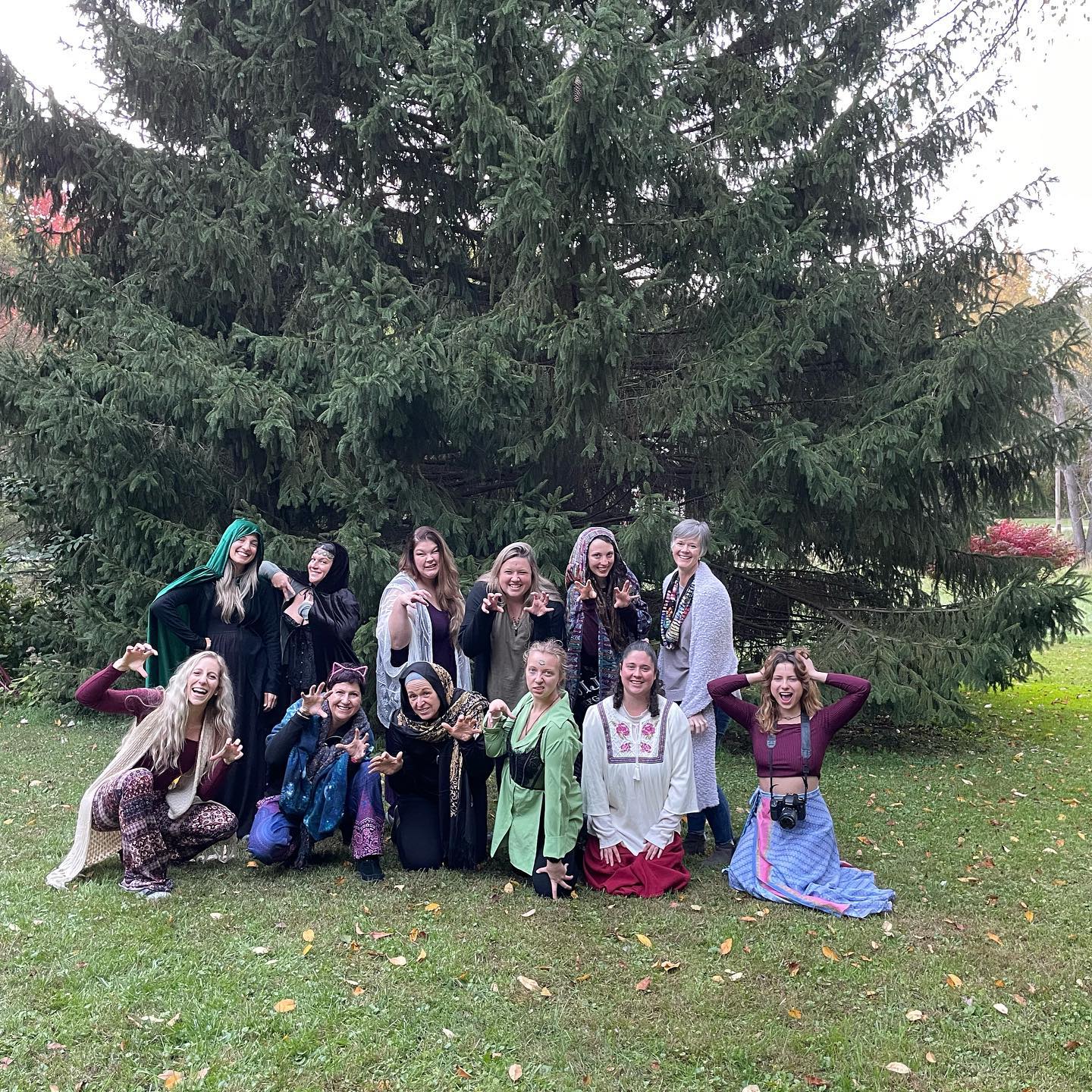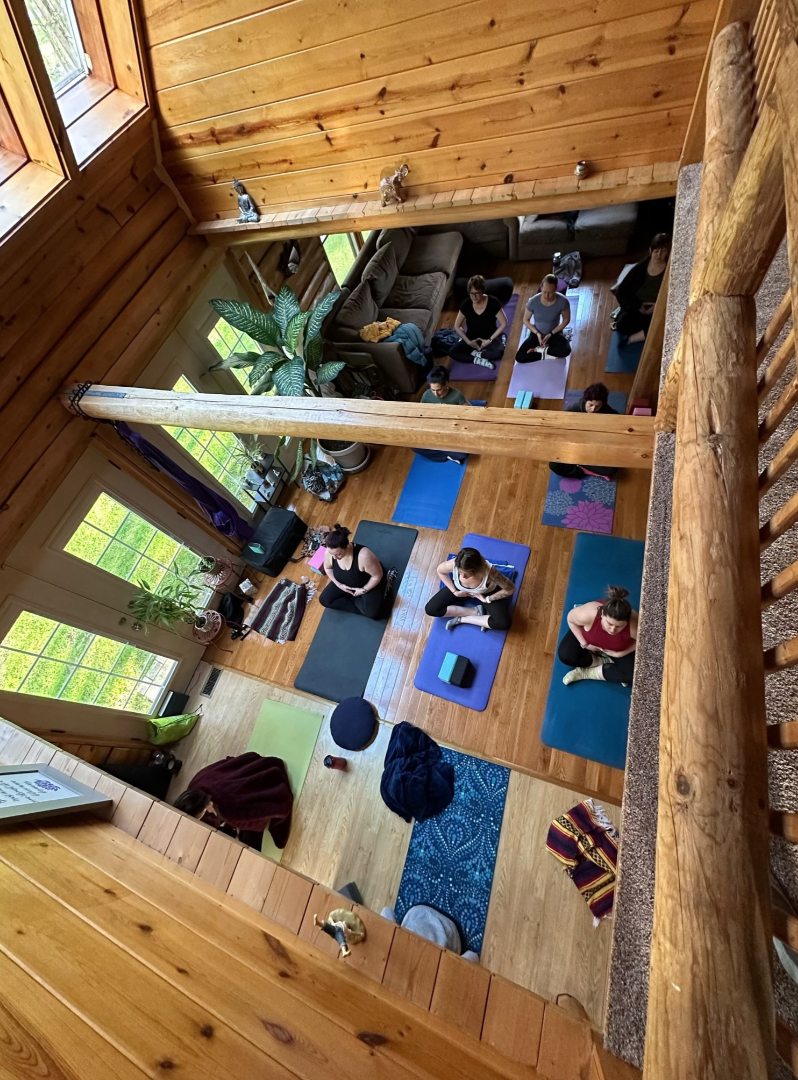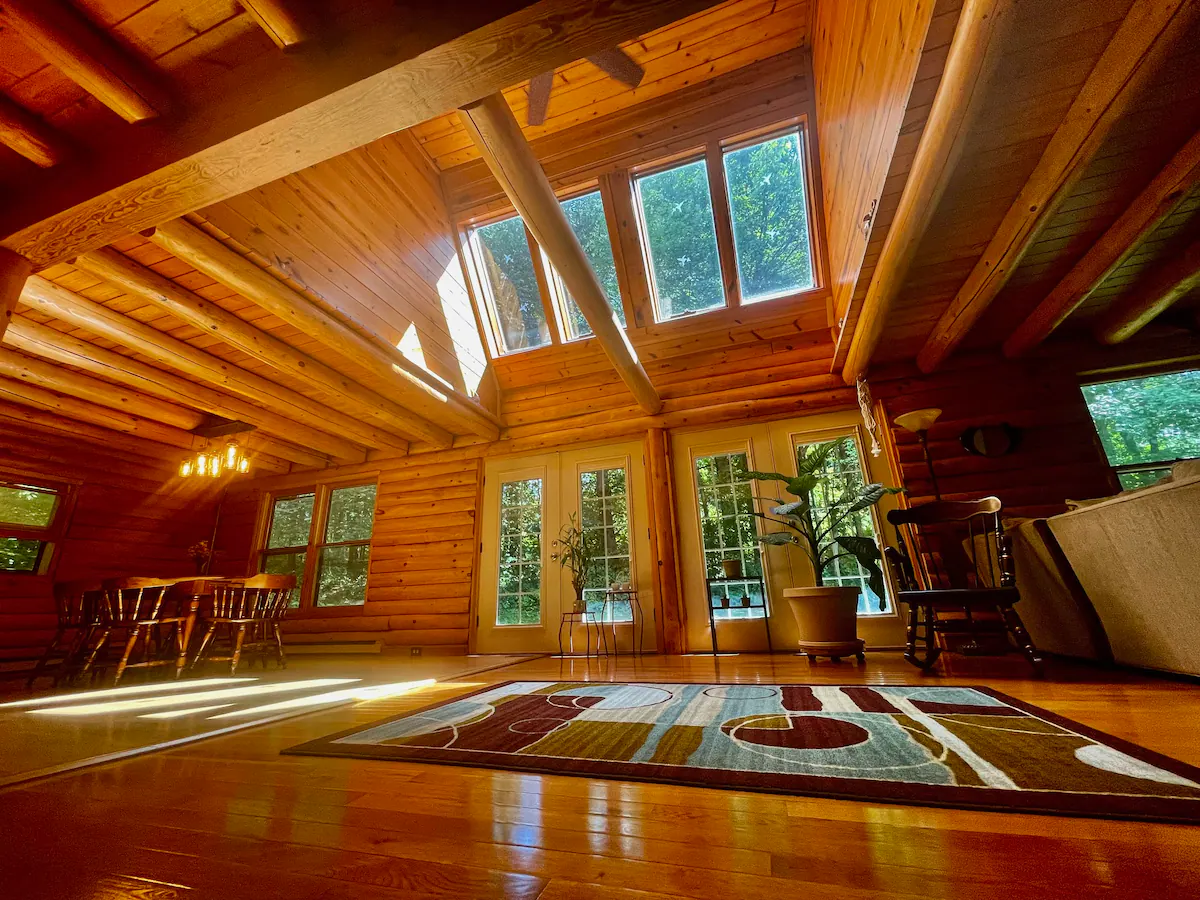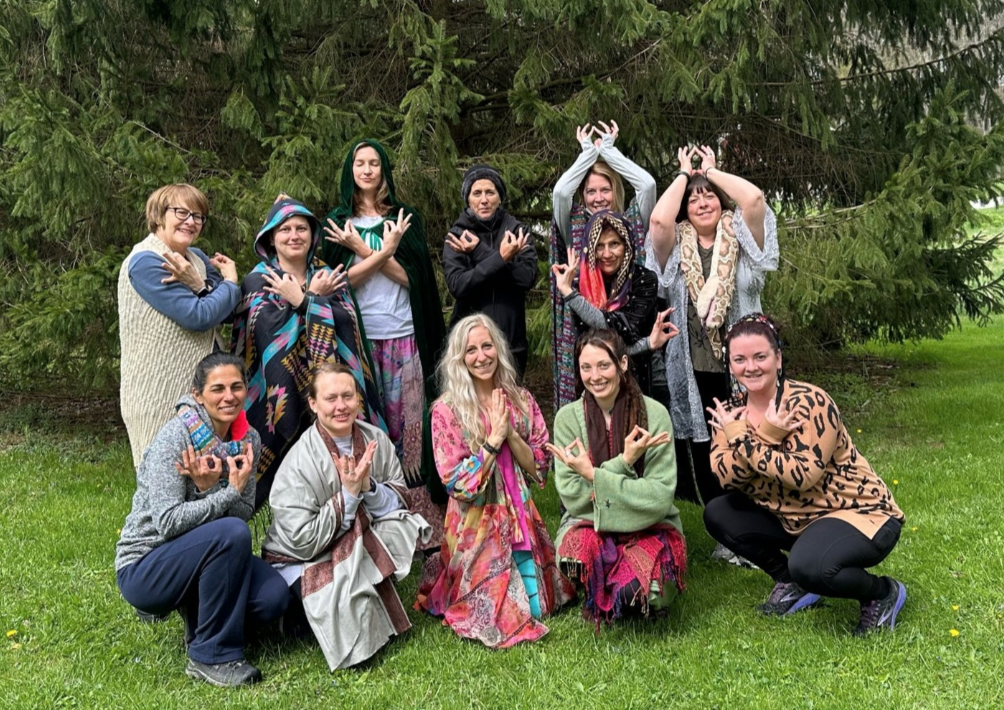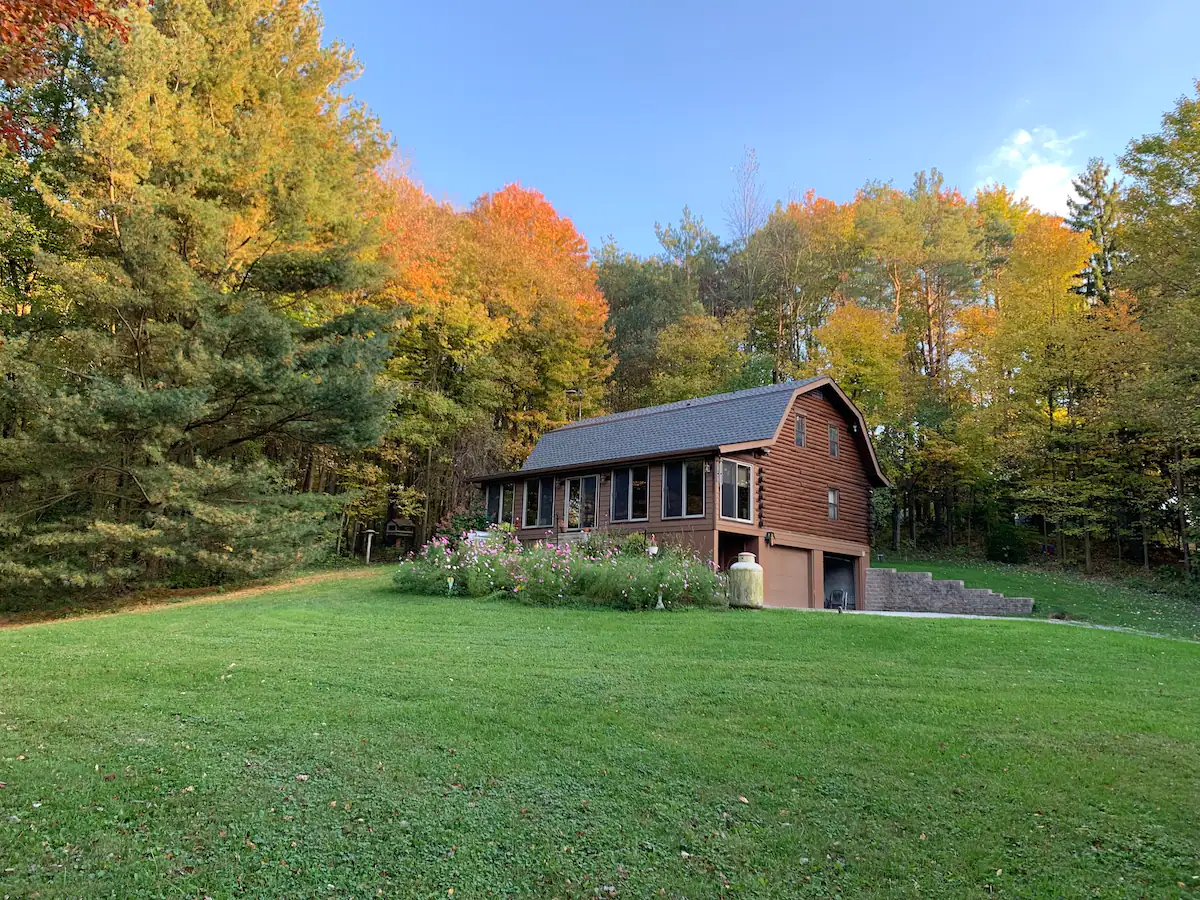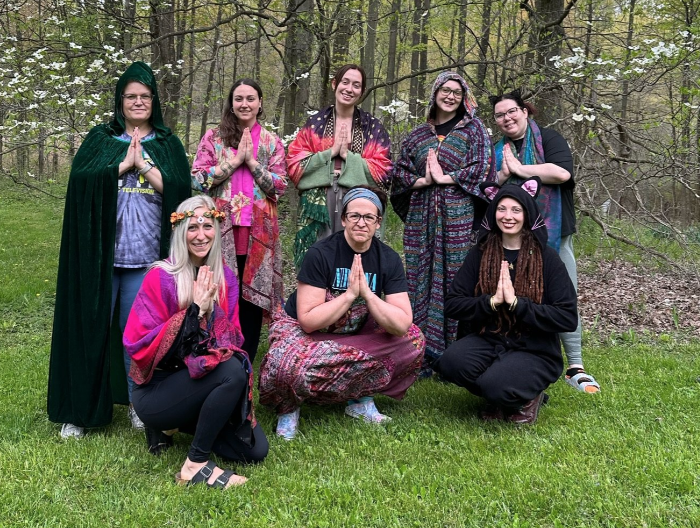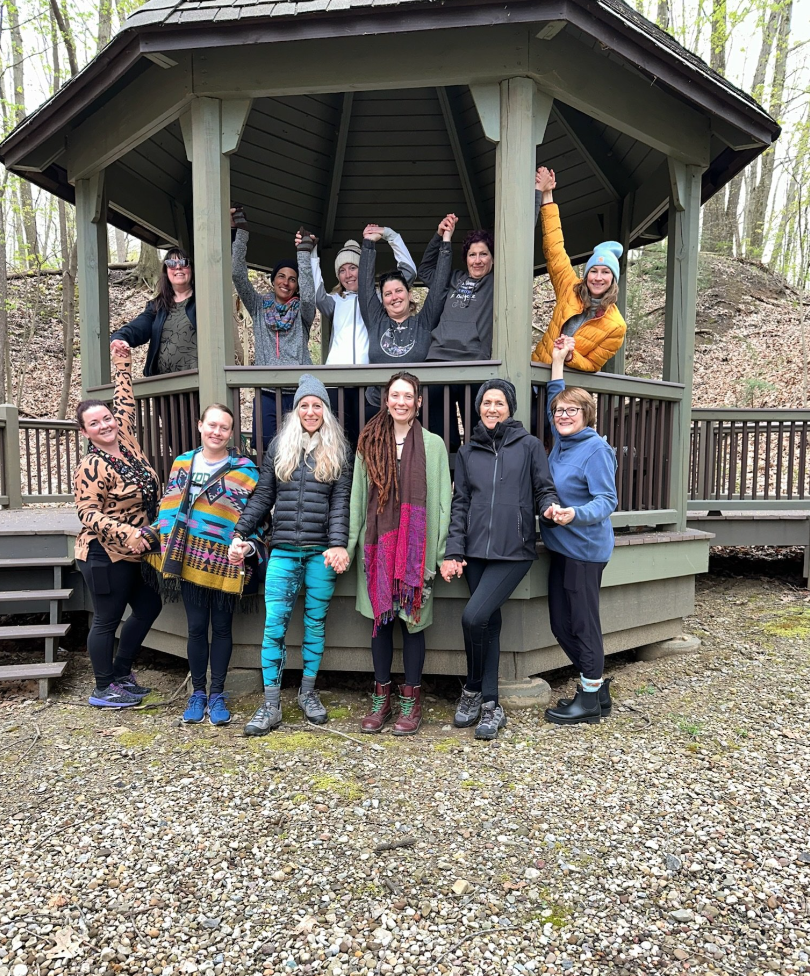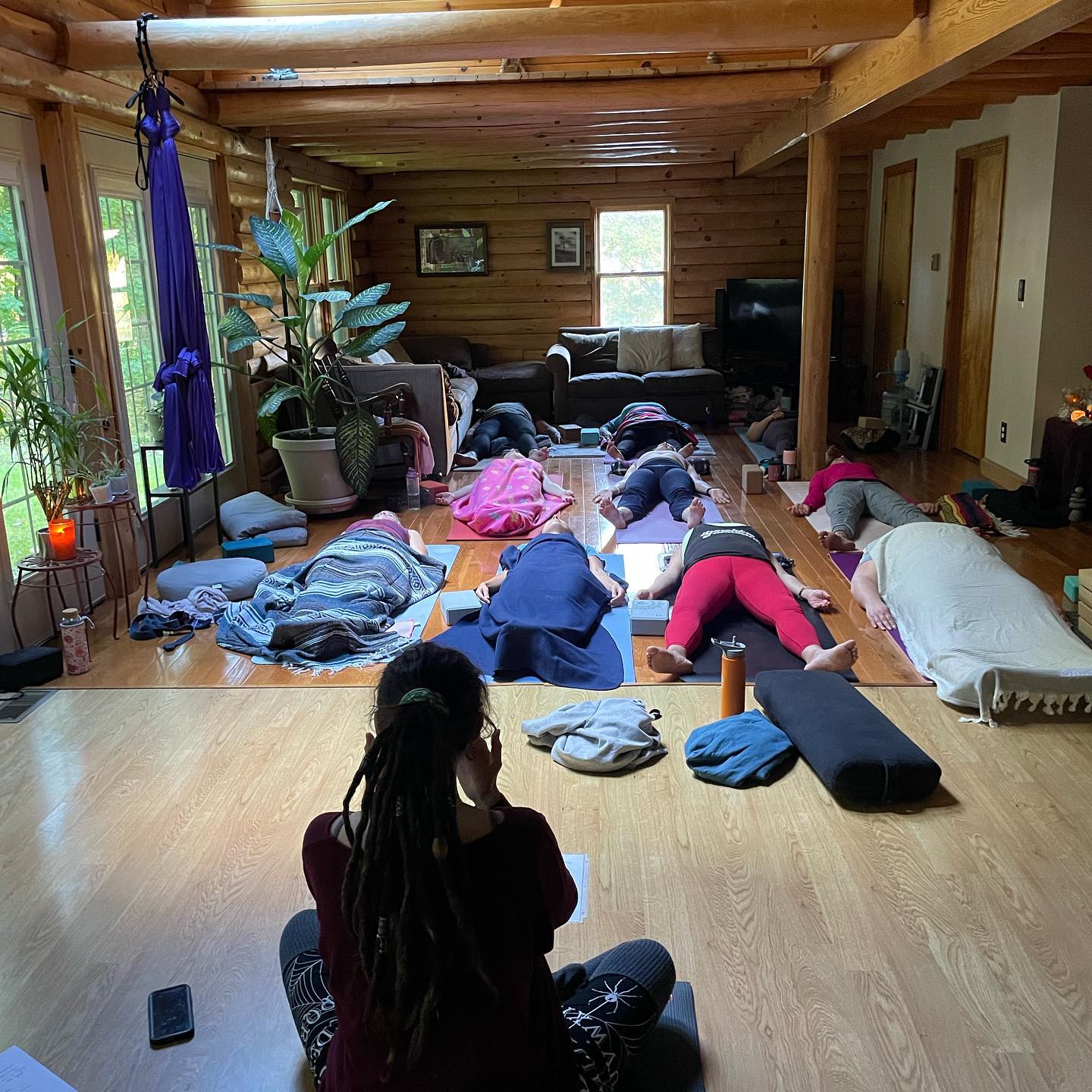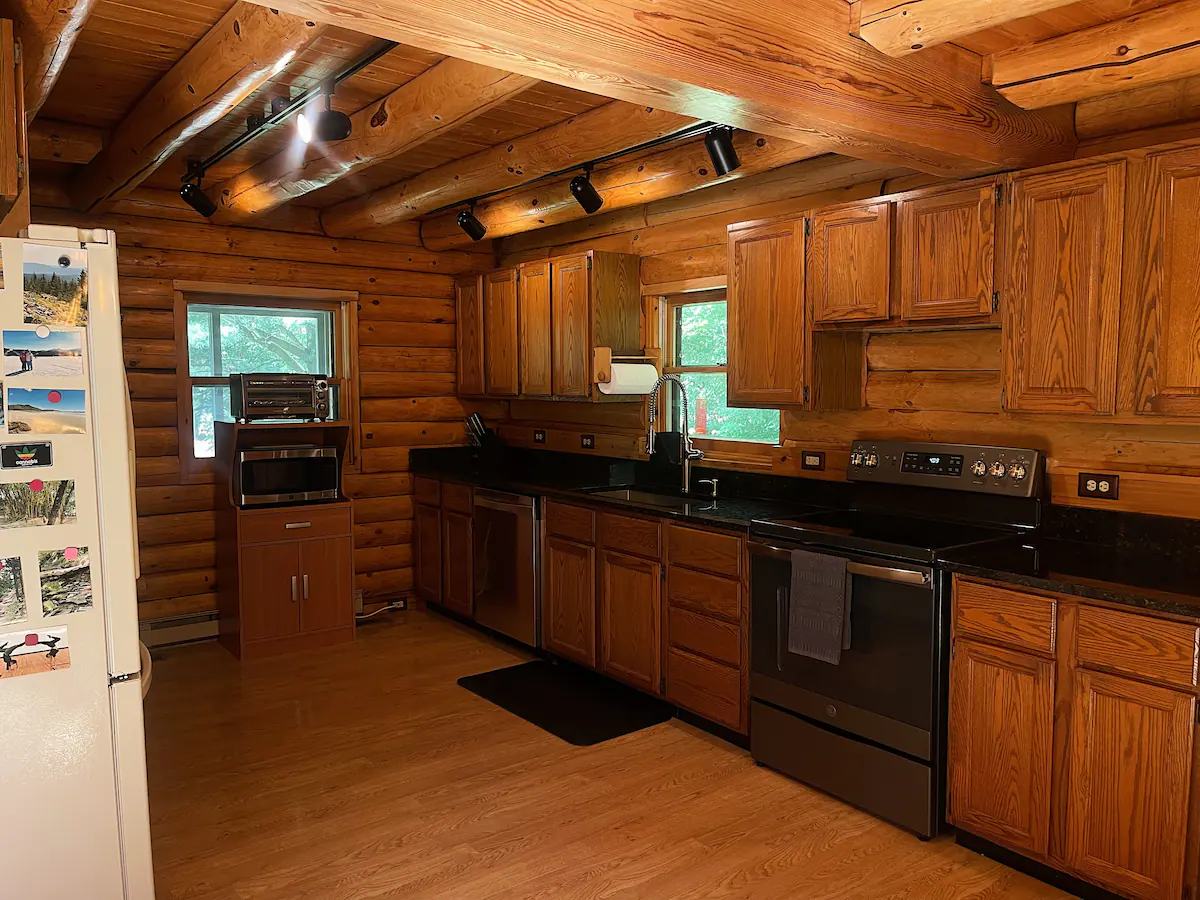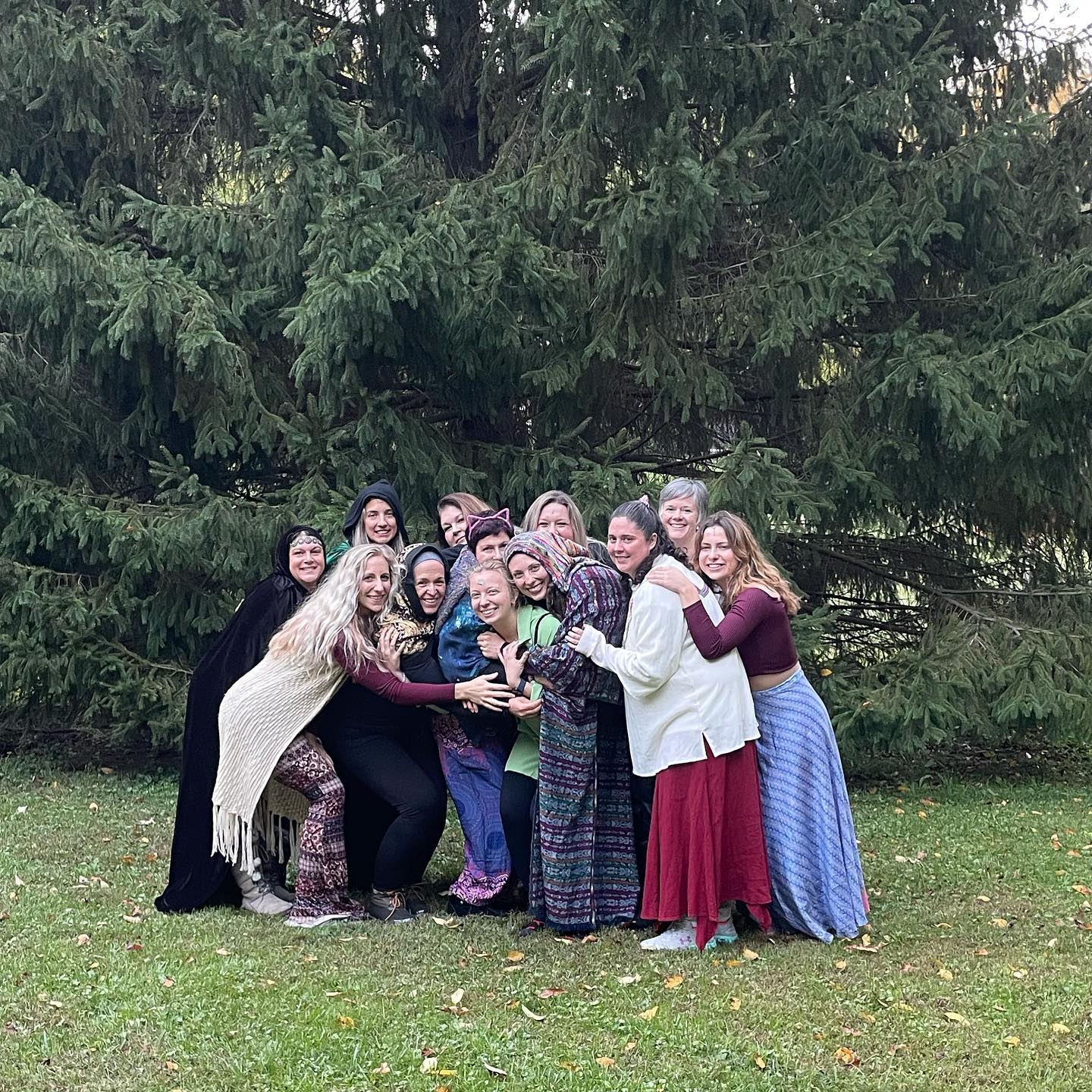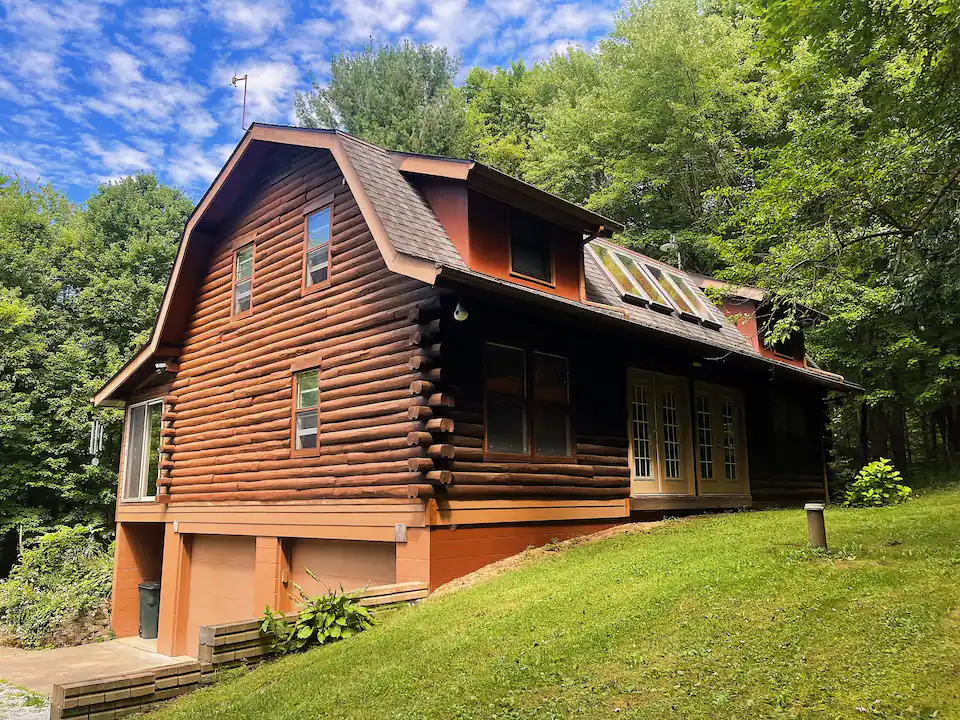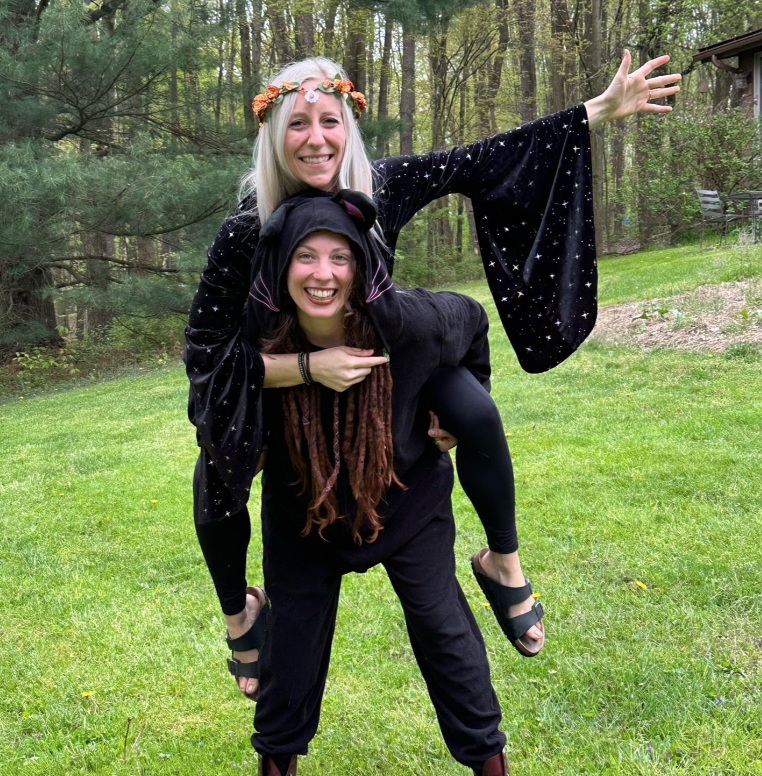 Testimonials from past retreats:
""Change yourself and you have done your part in changing the world" – Paramhansa Yogananda. This could never mean more for me this weekend. I am embarrassed to say that I was afraid to visit this retreat that my best friend booked for us. I had no idea what to expect. But the list could go on and on from what I not only learned about other practices, but also what I learned about myself. I was able to resonate with feelings that I tried to push deep down, or thought were invalid. Visiting this retreat helped me find Peace, Self- love and appreciation! Allison and Paisley are amazing at helping you feel so comfortable even when you're uncomfortable. Can't wait to revisit this October!!" – Nikki
"I cannot say enough about this retreat! I went in a little nervous about what it might entail and was worried that I may not be able to take it seriously or really allow myself to open up, but Allison and Paisley made the entire experience so comfortable and enlightening. I was so inspired by how much the other girls opened up that I couldn't help myself! The breathwork and ayurveda workshops were so interesting and I've definitely carried some of those lessons with me in my daily life. Plus I got to check cold plunge off my bucket list! 🙂 I am 100% planning on coming back! If you are on the fence about a retreat or trying to become more in tune with yourself look no further!" -Jen
"I arrived at the retreat wound tighter than a spring, riddled with stress, doing everything I could to suppress my emotions and yet wondering why I'd lost the joy in my life. I found wonderful teachers, beautiful new friends, safety, vulnerability, and empowerment. I left with a renewed commitment to self-care and a toolbox full of ways to slow down, take a breath, and not let the world harden me. I will definitely study with Allison and Paisley again and hope to attend another retreat soon! Highly recommend!" -Anonymous
"Allison and Paisley are gracious hosts. This was my second Women Retreat with them and the weekend exceeded my expectations. The schedule was paced perfectly with plenty of opportunities to socialize with the other women. Allison and Paisley are knowledgeable and caring.. yoga sessions were so calming and relaxed my body and mind. Primal Shakti Flow with Paisley challenged me to move my body freely… I couldn't stop smiling all weekend. I will definitely be back for a third retreat soon!" -Kara
"Leave your shoes and expectations at the door. Bring your empty cups, these women will teach you how to fill it." -Anonymous
"I wish I would have researched Paisley and Allison more. This was a beautiful and life changing retreat. I wish I had known the level of respect these two women deserve for the amount of effort they have put into their practice. I didn't feel as prepared to accept their gifts and wisdom. This retreat deserves return visitors, you both have so much to offer." -Anonymous
"Please don't be hesitant just sign up I promise you this retreat can and will change your life. Allison and Paisley are absolutely wonderful souls. I will be attending again." -Laura
"I had an incredibly transformative experience at this retreat. Allison and Paisley create an amazing team and together they guided us towards new ways of living, breathing and thinking. I felt very safe and secure, emotionally and physically, the whole time. They held a space were we, as women, can embrace one another fully and be connected on a level that I will cherish forever. I would recommend this retreat to anyone, any age. It helped to propel me onto the path that I was destined to walk upon. My gratefulness toward these two wonderful souls will never cease. Thank you, Al and Paisley. Peace and love." -Anonymous
"Truly life changing! The amount of effort these women put into their practice far exceeded any expectations I could have had. I felt safe to explore new things and be myself for an entire weekend. The atmosphere, the views, the noises, the yin and the yang were so entirely beautiful. I can't wait to return, and soak in more peace and keep learning their art." -Anonymous
"I enjoyed this retreat. I was able to experience a sampling of things that I was not familiar with, and I came away with a much more relaxed body and a couple new habits. I also keyed in on a couple new ideas that I want to explore further. For me, this was just right for me to slow down my brain and get comfortable with being uncomfortable. If you're feeling a bit stuck or stagnant, this might be a really great choice for you, too." -Michelle
"I didn't really know what to expect but I had an amazing weekend! I learned a lot and met some beautiful women. I feel like the retreat opened my heart and set something free in me- which was exactly what I needed. Paisley and Allison are wonderful teachers!" -Anonymous
"This is a wonderful experience to integrate yourself with other women and nature. Self- reflection and introspective are key for this retreat, allow yourself to get connected and feel the emotions of being in such a powerful environment. I just love it!" -Anonymous